How Does Sports Betting Work?
Rooting for your team makes most sports games much more exciting. You feel invested – like you have something to win or lose yourself based on how your team performs. You aren't a passive observer, and the game becomes that much more meaningful. Sportsbook betting gives you the opportunity to have even more at stake with your favorite games. But with sportsbook betting, if your team wins, so do you.
Boot Hill Casino is proud to offer Kansas sports betting through the DraftKings Sportsbook, giving sports fans the option to take their love of the game to the next level. The sportsbook lounge is a comfortable space where you can relax, enjoy the game, have a few drinks or some snacks, and place a few wagers in the process. You can spend the day cheering for your team and winning money along the way.
What is Sports Betting?
Sports betting is simply the act of placing bets on various sporting events, whether it is the outcome of the game itself, specific moments in the game, or the performance of specific players (or racers). If your prediction is accurate, you win the bet. If it isn't, you lose.
Most sports fans already have big opinions about what team will win or how things will shake out in the face off. Sports betting just allows them to put their money where their mouth is. Sports betting creates a thrilling addition to the game that gives fans a new way to enjoy their favorite pastimes.
Online Sportsbook in Kansas
In addition to the retail sportsbook location at Boot Hill Casino in Dodge City, DraftKings offers an online platform for sports betting. This online sportsbook gives players the convenience of placing bets from the comfort of their own homes or on-the-go through mobile devices, while also enjoying the security of betting with a known sports betting platform. The online sportsbook at Boot Hill Casino has a user-friendly interface and a wide range of sports and betting options, giving players plenty of ways to win within a secure environment.
Retail Sportsbook in Kansas
Of course, there's nothing quite like playing in a live betting environment. The DraftKings Sportsbook at Boot Hill Casino offers an exciting and inviting lounge where sports fans can place live and ongoing bets while they watch their favorite teams compete, while also enjoying some of the best amenities available. Players can kick back in plush lounge chairs with built-in cup holders and snack trays. They can order from the Hot Dog Bar, or enjoy a cocktail while they watch the game. With a 17-foot LED video wall, dozens of oversized, high-definition televisions playing all kinds of games, matches, and races in real time, and monitors showing the betting options and outcomes, players will come to love our Kansas sports betting location.
Important Kansas Sports Betting Details
Before you visit Boot Hill Casino, it's important to know some important sports betting details in the state of Kansas to ensure you have a great time.
Sports Betting Legal Age in Kansas
In Kansas, you must be at least 21 years old in order to legally bet on any sportsbook, whether it is in person or online. If you're underage, continue to enjoy watching the games at home for now. Come visit us when you are legally ready to join the fun!
State of Kansas Sports Betting Rules
Extensive rules govern sports betting in the state of Kansas. These rules cover the types of bets you can place, when you can place them, how winnings are determined, and so on. Because there are so many rules, and because they vary from game to game, we will refer you to the complete listing, rather than try to replicate them here.
DraftKings Betting Rules
Check out the more specific rules for betting in DraftKings Sportsbook here. You'll learn about the common terms used, how to place a bet (the minimum is 10 cents), what happens when there's a dead heat, and more. When you are at the DraftKings Sportsbook at Boot Hill Casino, any of our friendly associates are happy to answer your questions about the rules of play and betting.
Most Popular Sports to Bet On In Kansas
Kansas sports bettors have a wide variety of sporting events to choose from when placing their wagers. Here are some of the most popular sports that are included in sports betting:
NCAA
College basketball and football are immensely popular in Kansas, thanks in part to the passionate fan bases of local teams like the Kansas Jayhawks and the Kansas State Wildcats. NCAA basketball's March Madness tournament, featuring a bracket-style competition, draws considerable betting interest as fans predict the outcomes of matchups and the eventual national champion.
NFL
The National Football League's popularity extends to Kansas, where avid fans closely follow their favorite teams and players. From regular-season games to the Super Bowl, NFL matches generate substantial betting action. Whether it's predicting point spreads, total points, or player performances, you have plenty of options to bet on these games and win big.
NBA
Basketball enthusiasts in Kansas can get in on betting for the National Basketball Association (NBA), placing wagers on individual games, player performances, or championship outcomes, among other things. The fast-paced nature of basketball makes for thrilling betting opportunities, with bettors predicting scores, rebounds, assists, and more.
MLB
As the quintessential American pastime, baseball maintains a strong presence in Kansas. Major League Baseball betting encompasses a wide range of wagers, from moneyline bets on individual games to futures bets on World Series winners. With the lengthy MLB season, bettors have ample opportunities to engage in strategic wagering.
NHL
While not as prevalent as some other sports, National Hockey League betting still attracts many hockey fans from around Kansas. From predicting game outcomes to placing bets on total goals scored, NHL betting offers many options for those who enjoy the fast-paced action on the ice and want to get in on the action somehow themselves.
UFC
Mixed martial arts (MMA) enthusiasts in Kansas embrace Ultimate Fighting Championship (UFC) events as prime betting opportunities. Betting on UFC matches involves predicting the winner, the method of victory, in which round victory will occur, and more. The intensity of MMA bouts adds a layer of intensity to the betting experience for fans.
As these popular sports take center stage in Kansas, the DraftKings Sportsbook at Boot Hill Casino provides an ideal platform for bettors to immerse themselves in the excitement of sports wagering. Whether it's the frenzy of college basketball, the anticipation of NFL Sundays, the intensity of NBA matchups, the leisurely pace of baseball, the action-packed NHL, or the raw energy of UFC fights, our Kansas sports betting sportsbook offers a comprehensive experience for fans across the state.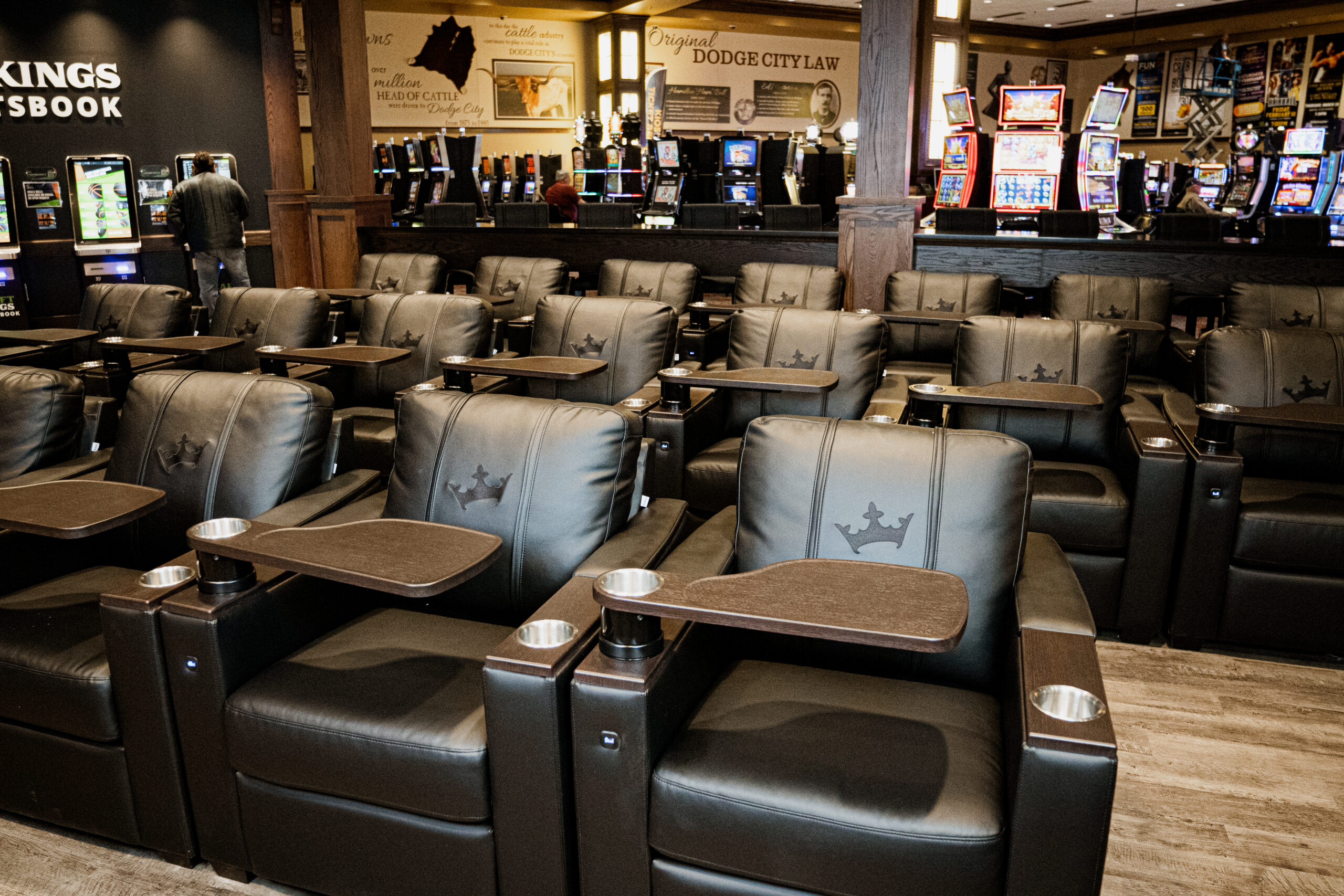 Responsible Sports Betting Tips
Placing bets at the sportsbook can be fun and exciting – so long as it is done responsibly. There's nothing worse than seeing your favorite team lose the big game and also losing a lot of money in the process. Betting responsibly can help you avoid such a fate and keep the fun in the game. Here are some tips to help you keep your sports betting within healthy boundaries:
Set a Budget
Before you start placing bets, it's crucial to establish a budget that you can afford to lose. Treat sports betting as entertainment, and only use funds that you have designated for it. Setting a clear budget prevents you from overspending and helps you maintain control over your finances, avoiding the impulse to place just one more bet to chase that win.
Understand Odds and Probabilities
Familiarize yourself with the odds and probabilities associated with different types of bets. Doing so will help you make informed decisions, knowing the potential risks and rewards of each wager.
Bet with Your Head
Emotions can sometimes cloud judgment, leading to impulsive and irrational betting choices. When placing bets, let logic and analysis guide you, rather than your gut feeling or your desperation to win. A rational approach increases your chances of making well-informed bets and helps you to minimize losses.
Avoid Chasing Losses
Losing is a natural part of any betting. You must avoid the temptation to chase losses by placing even larger bets to recoup what you've lost. Instead of winning big, you are likely to lose even more money, putting yourself into a huge financial hole. Stick to your budget and betting strategy instead.
Take Regular Breaks
Kansas sports betting can be absorbing, and it's easy to lose track of time and money. To maintain a healthy balance, take regular breaks from betting. This not only prevents burnout but also gives you an opportunity to reflect on your betting patterns and outcomes.
Play the DraftKings Sportsbook at Boot Hill Casino
If you're looking for a reputable and exciting platform for sports betting, consider playing at the DraftKings Sportsbook at Boot Hill Casino. With a range of betting options, cutting-edge technology, and a luxurious atmosphere, our sportsbook offers an amazing experience for both novice and experienced bettors. Remember to bet responsibly, ensuring that you keep the fun in the game and have the means to come back time and time again to enjoy the games.